© GreenGlue.co.uk 2014 - Acoustic GRG Products ltd, Green Glue trademarks are owned by Saint Gobain Performance Plastics and used with Permission.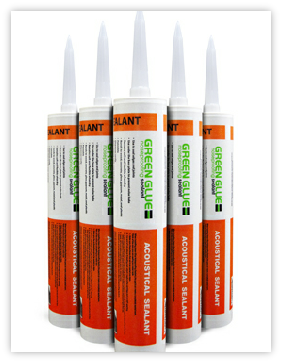 Our sealant is available in single tubes or cases of 12. Each tube will treat approx 12 - 24 linear meters.

Our acoustic clouds are a perfect way to absorb sound. Check out what we can do

Seals in Minutes - It takes just minutes to apply Green Glue Noiseproofing Sealant along edges and cracks. It dries completely in 48 hours and is ready to decorate.
Easy Installation - No training is necessary to use Green Glue Noiseproofing Sealant—it is applied in the same fashion as standard caulking material. The sealant comes in 28-ounce tubes that fit into quart-sized calking guns. Cleaning up is simple with just soap and water, even when wet. It can be painted over once dry.

Effective - Adding Green Glue Noiseproofing Sealant to your soundproofing project can reduce noise transmission by 100 times or more. Green Glue Noiseproofing Sealant exceeds LEED green building requirements and has been independently tested by Underwriters Laboratories for fire safety and environmental impact.
INSTALLATION
1) Make sure the surfaces that are to be sealed are clean.
Cut a ¼" hole in the tip of the tube with a utility knife.
Screw nozzle tightly over the tip of the tube and cut a ¼" hole in the tip of the nozzle.
When your nozzle is cut, place the tube in a standard 28 ounce caulk gun to prepare for installation


2) A very common application of Noiseproofing Sealant is filling 1/8" to 1/4" gaps between drywall joints, and areas where the drywall meets the floor and ceiling.
Other applications include spaces around electrical outlets, windows, doors, and light fixtures.
Apply 48 hours before painting to allow for drying time. Drywall mud can be applied directly over Green Glue Noiseproofing Sealant.
Sound is like water, so even the best soundproofing strategy will fail if there are cracks and other gaps in a wall, floor or ceiling that are left uncovered. Green Glue Noiseproofing Sealant seals these gaps and cracks to prevent unwanted noise from escaping a room. Noon-hazardous, practically no odor, resists drying out or cracking with age.